LAT-2000 LED LAMP AUTOMATIC AGING TEST PRODUCTION LINE
LAT-2000 LED LAMP AUTOMATIC AGING TEST PRODUCTION LINE
LED lamp aging

100% online testing
Fast& power saving & high precision



LAT-2000 adopts aging techonology to Identify early failure phenomenon as soon as possible. In addition , the systems can realize the rapid & high precision performance measurement through advanced light, color, and electrical rapid analysis methods ,accoding to the test results, it can give the qualifydetermination, indication and packaging automatically .
Main functions:
Automatic aging function (aging and early failure automatic test function);
includes normal temperature aging, high temperature aging, rated voltage aging, high and low pressure aging, switch aging, roaming aging and so on. Through a series of aging and early failure tests, the early failure potential of the product is shown.
High precision on-line automatic test (performance comprehensive analysis test function)
The whole system only needs one person up and down lights to operate. After the completing aging process, the light source will go to the test process automatically. the system automatically tests safety, electricity, photometric parameters and chromaticity parameters.
Measurable parameters:
Electrical parameters: current, voltage, power, power factor, etc.
Photometric &chroma parameters: luminous flux, luminous efficiency (lm/w), chromaticity coordinates, color temperature, color purity, wavelength, color rendering index, etc.
Online automatic testing of safety rules: including voltage withstand, insulation resistance, leakage current and so on.
Product qualification determination and automatic grading function
According to the pre-set limit, the system can do qualify identification We can automatically
Identification and data management traceability
The test data of every lamps can be traceable. can be matched with each lamp one by one, facilitating data tracing.
supports data networking, and the tset data can be uploaded to user specified locations in a specified format for data management and monitoring .
Parameter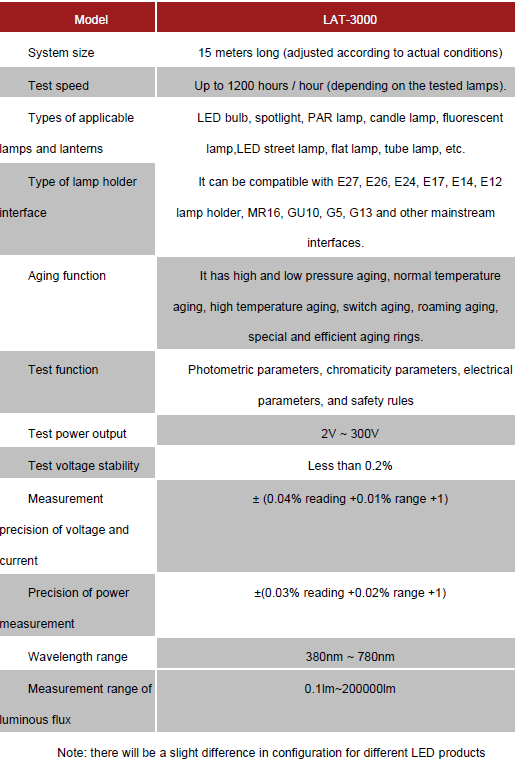 Application
The quality control for for indoor lighting, outdoor lighting products
Applicable lamps and lanterns: LED bulb, PAR lamp, spotlight, candle lamp, fluorescent lamp, flat panel lamp, down lamp, street lamp and so on.


back